2-minute read
Hairstyles can be trendy; hair length can be versatile; and hair color can be transformative.
In an industry where we always value our clients' creative style dreams, at ArchiTexture, we equally prioritize the ownership of our stylists and estheticians as their independent small businesses thrive in our salon.
Why ArchiTexture
"I encourage anyone who is considering this leap of faith to consider trusting in ArchiTexture. I love to help booth renters grow their book of business and increase their income by helping them with professional marketing and referrals!"
Tami Daniel, Owner and Stylist of ArchitTexture
It's the light you've been looking for, literally and figuratively. Our positive work environment embaces the natural lighting and spacious beauty that fills our salon each day.
Beyond the salon, you will get to enjoy your days in the Brookside East neighborhood within walking distance to restaurants such as Unbakery and Juicery, Heirloom Café, Brookside Poultry Co. and located in the same building as BKS Artisan Ales.
Special Perks for Our Stylists and Estheticians
Stylists: don't worry about budgeting to restock as our backbar is paid for and continuously stocked with styling products, Davines shampoos, conditioners, and Rhonda Allison Skin Care products.
Stylists and Estheticians: enjoy the commission you receive on all the retail products you sell!
Stylists and Estheticians: we support all of your professional marketing needs for the first year because your talents are that good, and the world needs to see your work!
To the Stylists and Estheticians of Kansas City: A Career to Suit your Lifestyle is Just One Booth Away.
"Transitioning from a commissioned employee to a self-employed Stylist or Esthetician is a huge step," Tami said.
Let us share our keys to a successful booth rental. ArchiTexture will provide you with a support system as you grow your clientele, own your ability as a self-starter and pursue your passion for the beauty industry in a place that wants to see you succeed. Give yourself the freedom of controlling your own schedule, lunch breaks, and vacation time.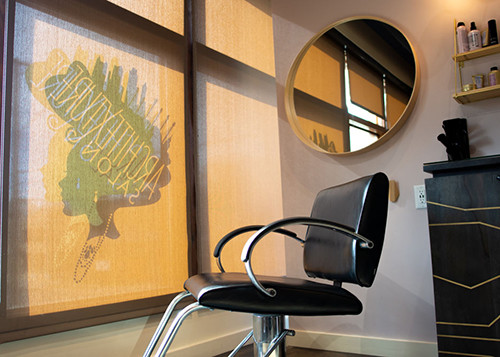 Here's What Our Stylists Have to Say
The Happy Company: "At ArchiTexture, we genuinely enjoy each other's company. I feel incredibly lucky to be working with such a talented, grounded & happy group of people."
Tami Daniel, Owner and stylist
The Best of Both Worlds: "Working at ArchiTexture is like having the best of both worlds- the support of a team-based commission salon with the complete control over my finances and schedule!"
Rikki Neal, booth rental stylist
The Great Energy: "I like the flexibility of having control over my schedule. I truly enjoy all of my coworkers at ArchiTexture. This salon has a great energy!" Becky said.
Becky Clayton, booth rental stylist
The Positive Support Team: "I love being able to be in control of my business while being in an environment that is positive and supportive!"
Katelyn, booth rental stylist.
The Creative Culture: "I love having the flexibility to create my own schedule and business. ArchiTexture Salon is a wonderful environment with a supportive and creative culture."
Gigi Dennis, booth rental stylist
 We would love for you to join our chill tribe!
xoxo,
ArchiTexture